Quizzes are an effective and interactive way to share content across social media or any other platform. Quizzes are enough to grab user's attention and make them take the quiz also to rope in more and more people if it's super entertaining or fulfilling.
Quizzes are no less than a Magic Wand. If administered correctly they have the ability to reach out to a maximum of people organically in a very little time.
Noticing this potential and the amount of engagement quiz carries along with wider reach, numerous businesses and companies have started investing heavily in Social Media Marketing or Digital Marketing as a whole.
At the forefront of these marketing efforts is the idea of building Viral Quizzes. Viral Quiz is the best lead generation tool you can have on your website.
In this article, I have discussed how you can build a Viral Quiz for your website and fascinate your users in order to gain more traffic and maximum page views.
Let's first find out what exactly is a Viral Quiz and how does it work?
>> Skip To Viral Quiz Creation Steps
Viral Quiz Explained
When I say "Viral Quiz" I am not referring to a type/form of a quiz. A Viral Quiz is just what people throw around to describe stuff that's popular, but I would define things that go viral as just "things with momentum and virality baked in."
A Viral Quiz is just any Quiz that is strong and entertaining enough to be loved by whoever takes it. You can say you've successfully created a viral quiz if the quiz garners 10x the usual traffic (unique visits) and conversation without you paying a single penny (organically).
Also Read: How to Write Effective Content for your Blog? [10 Easy Steps]
An example of it would be BuzzFeed Quizzes, almost everyone who spends time online must have heard of it. The reason why BuzzFeed Quizzes are so popular is that they have mastered the art of Quiz making and almost every other quiz of theirs goes viral on various social platforms.
They build quizzes that are interactive, entertaining, short, easy, and leaves the user with a feeling of joy and satisfaction. But how are they able to do it? They make use of media (images, GIFs), colorful fonts, simple short questions with easy answers.
If you're able to achieve these things the next quiz of yours is surely going to go Viral!
Plugin to Create a Viral Quiz
Rather than using an online quiz maker tool, you must integrate a quiz tool on your website. There are many benefits of building quizzes straight from your website, some of them are:
No Security Concerns as you manage your website and its data
Run Marketing Campaigns straight from your website using the collected user data
Customize and Design Quizzes as per your requirement
Generate Leads and Build Mailing Lists
Control everything from one place
Analyze Data and Plan a Better Quiz
If you have a WordPress website then you can definitely use a WordPress quiz plugin to simply create Viral Quizzes From Scratch. The beauty of WordPress is its ability to add advanced functionality with the help of Plugins.
For creating a viral quiz on WordPress we recommend using the Quiz and Survey Master Plugin (QSM), how different is this from the rest you may ask!
Well, Quiz and Survey Master is a Free WordPress Quiz Plugin that has been downloaded a million times on WordPress.org.
Quiz and Survey Master offers tons of customization options, has an easy-to-use interface, flexible working, and has the potential to bring organic traffic to your website.
The QSM Quiz Plugin is the best marketing tool to have on your website and can help you in creating all types of Question-Answers forms like Quizzes, Surveys, Polls, Questionnaires, Online Exams, Tests, Assessments, and more.
Quiz and Survey Master – Top Features
Free to use and build unlimited quizzes
Ability to share Quiz Results on Facebook and Twitter
15 Question Types (Slider, Multiple Choice, True/False, Opt-in, etc.)
Display a Contact Form to collect user information
Generate Leads by integrating services like MailChimp, ActiveCampaign, Zapier, CampaignMonitor, GetResponse, etc.
Display quiz results Inline with images, GIFs, Videos, etc.
Add Conditions to the Results and Show different results based on the set condition.
Provide Free Certificates to the users and more using QSM Addons.
4 Tips on Creating the Best Viral Quiz
Finalize on attention-grabbing questions
The Questions you choose must compel users to answers them and even share them with their friends or colleagues, the questions must be relevant to your users so they can quickly answer them.
Make a sarcastic question if your quiz is clearly a joke. Make it short, cute, and clear to your audience if it's an honest one.
Plan your Quiz Carefully
Make use of use words like "last" or "definite" in your Quiz Name to spark an interest. This makes it more likely that people will share it with friends and colleagues. Don't forget to add a clear call to action when a user completes the quiz, for example by requesting their email address or linking to a page.
Use your Quiz as a Widget on your website
Quizzes are great attention grabbers. They make great content and depending on the duration of the quiz, they keep visitors to your site longer than before. Thus placing the quiz with the help of a widget on your page will definitely help.
Promote your Quiz after making it Live
People love to test their intelligence on free time when using social media. You can promote your quiz through Twitter and email marketing. If the Quiz is good enough, consider promoting via paid services on social platforms like Facebook and Twitter.
How to Create a Viral Quiz using WordPress Plugin
Step 1: Decide on what Questions to ask
Step 2: Create a Quiz and Add Questions and Answers
Step 3: Collect User details with a Contact Form
Step 4: Customize Alert Messages and Button Labels
Step 5: Customize Quiz using Multiple Options
Step 6: Configure Results Page
Step 7: Publish your Quiz and let it go Viral
#1 Decide on what Questions to ask
Viral quizzes go viral only when they have the best set of questions and answers combined.
If you are to build a trivia/BuzzFeed style quiz then your questions and answers should stand out and be entertaining enough to keep the audience hooked.
Chalk out 10-12 questions that you want to ask and their answers. You don't want to add more questions as it would bore your users and they'll leave the quiz midway.
Search for questions on various domains like entertainment, food, travel, movies, memes, lifestyle, etc. Also, frame questions keeping in mind you're intended audience as some questions may not work for older audiences when they worked for youngsters.
#2 Create a Quiz and Add Questions and Answers
Once you've finalized your questions you can now start creating your quiz.
Install the Quiz and Survey Master plugin on your website, after installing the free quiz plugin you need to head to the QSM dashboard and create a new quiz.
Then create a new quiz by hitting the "Create New Quiz" button. Next, enter a Quiz Name, and select Simple Quiz Template and choose the required quiz settings to create a fresh quiz template to further add questions and answers.
In the very first blank field type in your Question and choose your question type from the Question Type Dropdown. Quiz and Survey Master has a total of 15 Question Types.
For this Viral Quiz, I'll be using Vertical Multiple Choice as my Question Type to display the answers/options in a vertical radio button format. You can check the required field to make the user answer the question forcefully without skipping.
Using QSM you can add as many answers as you'd like but think of the users as they will be the ones answering the questions so you don't want to bore them with too many options.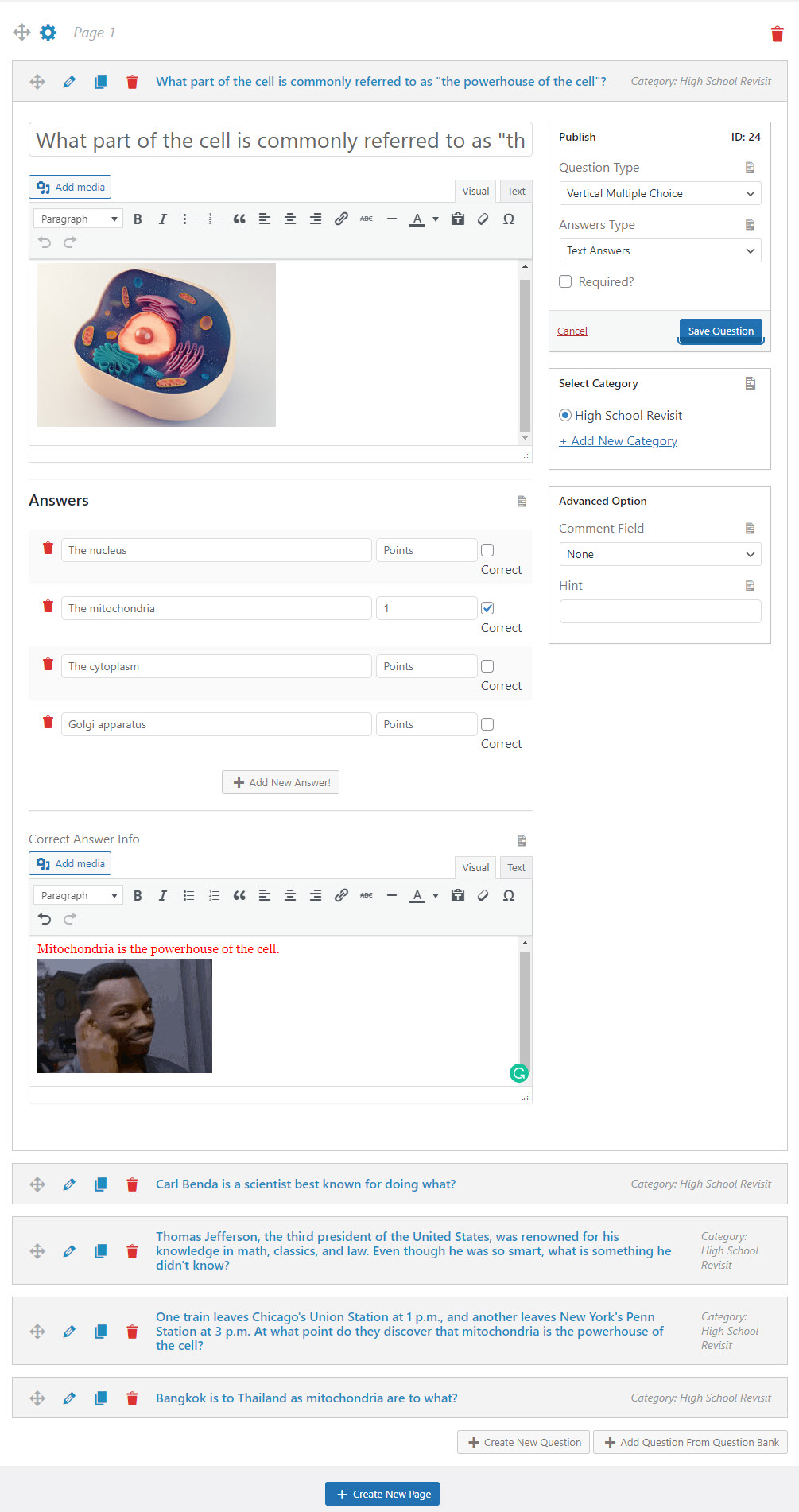 Also, to make the quiz more exciting you can allot a few points to the correct answer and check the correct answer checkbox. You can add images, videos, GIFs to the question via. description.
In this quiz, I have included correct answer info that will be shown to the users after they choose any answer and will help to justify the correct answer. You can add images, videos, GIFs to the inside correct answer info to double the fun.
Also Read: How to Manage Clients and Work Efficiently in WordPress [With Steps]
You can create a new category to save the question to a particular category, I'll be creating a new category with the name "High School Revisit". This can help if you want to display questions belonging to a particular category via. the QSM Options tab.
Likewise, you can create multiple questions and disperse questions into multiple pages. With QSM you can 100+ questions to your quiz, all for free.
#3 Collect User details with a Contact Form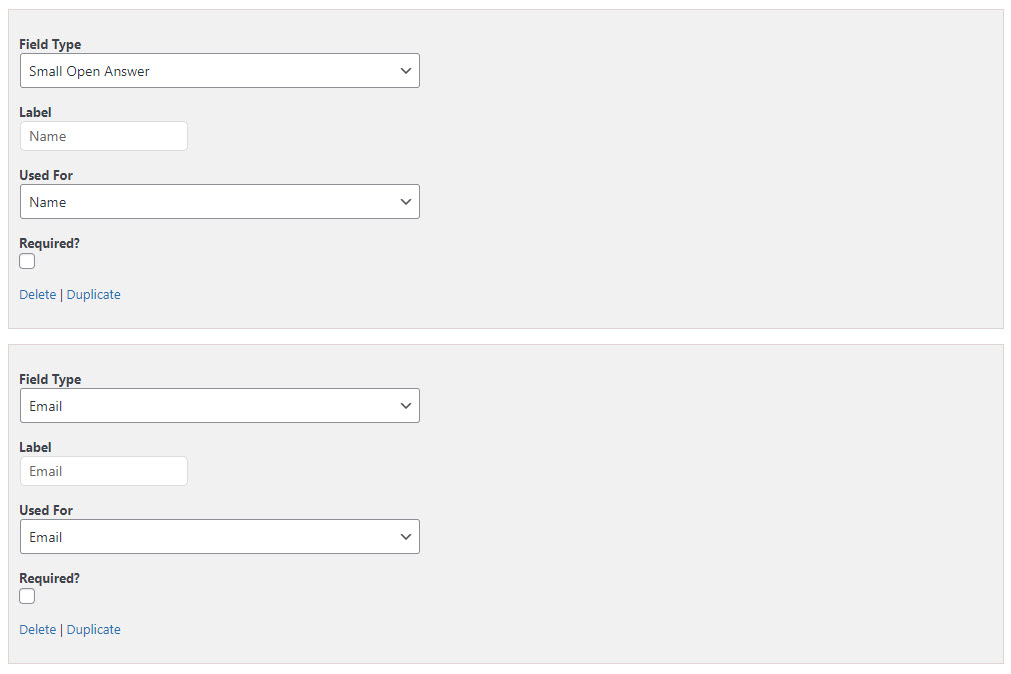 To collect user details like User Name, User Emai, etc. we need to create a basic contact form for users to enter their contact information or any other information you wish to gather from the user who will be taking the quiz.
For this Viral Quiz, I'll be accepting the User's Name and Email which can be useful in email marketing.
To create a form click the "Add New" Button, Select "Small Open Answer" as the Field Type and enter the Label as "Name," and select Name in the "Used For" dropdown field.
Repeat the same steps to add Email Field, Select "Email" as the Field Type and enter the Label as "Email," and select Email in the "Used For" dropdown field. Save the progress by hitting the "Save Contact Fields" button.
#4 Customize Alert Messages and Button Labels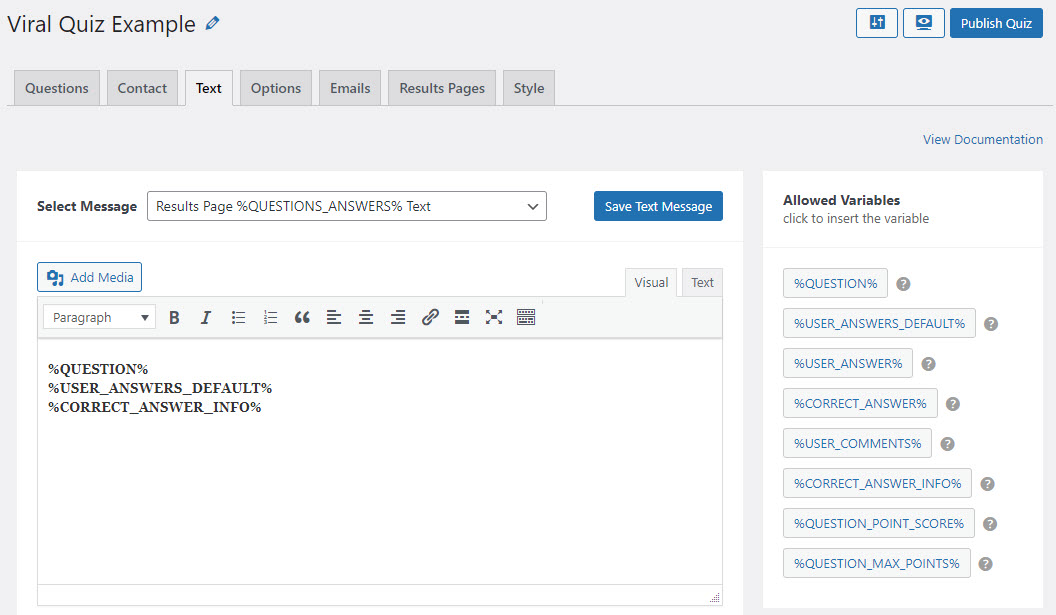 Using the QSM plugin you can present a custom message to the user this message can be in the form of an image, a video, other media, or plain text.
You can also control the format of Questions and Answers that will be displayed on the Results Pages using the %QUESTIONS_ANSWERS% variable. This is where you can add %CORRECT_ANSWER_INFO% variable to include correct answer info text while displaying results.
You can also change various button texts, validation messages, and other alerts inside using the QSM Text Tab.
#5 Customize Quiz using Multiple Options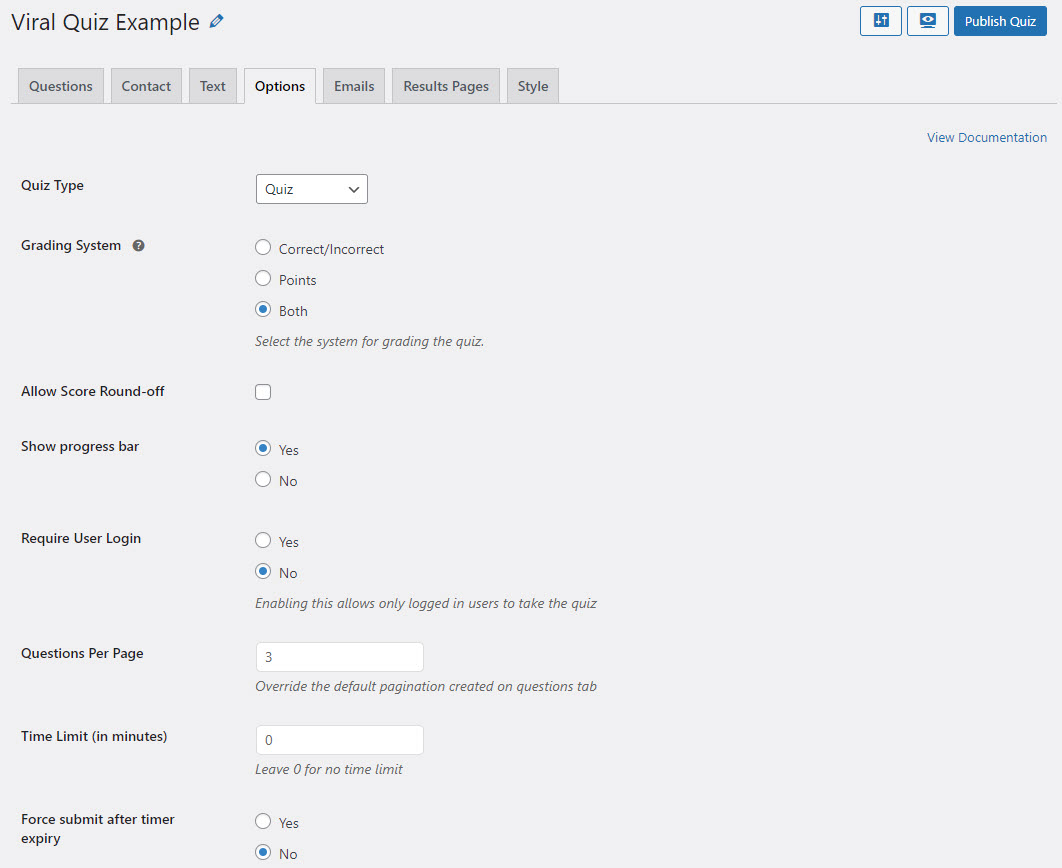 Want to add a progress bar to your Quiz? or How about adding a count-down timer? Retake Quiz Button will look great! All these functions and more can be enabled in the options tab of QSM.
With the Options tab, you can fully control the Quiz Behaviour. Control how many questions to display on a page, add a time limit in minutes, make the quiz force submit itself after the timer expires, limit the number of entries for a quiz.
Display questions randomly so that every user gets to see different questions, change the contact form position from before to after submitting the quiz, Display category name on the Quiz, Show results and correct answers inline, Set quiz animation, and also an option to display a unique logo.
Make use of these options to make the most out of your Quiz!
#6 Configure Results Page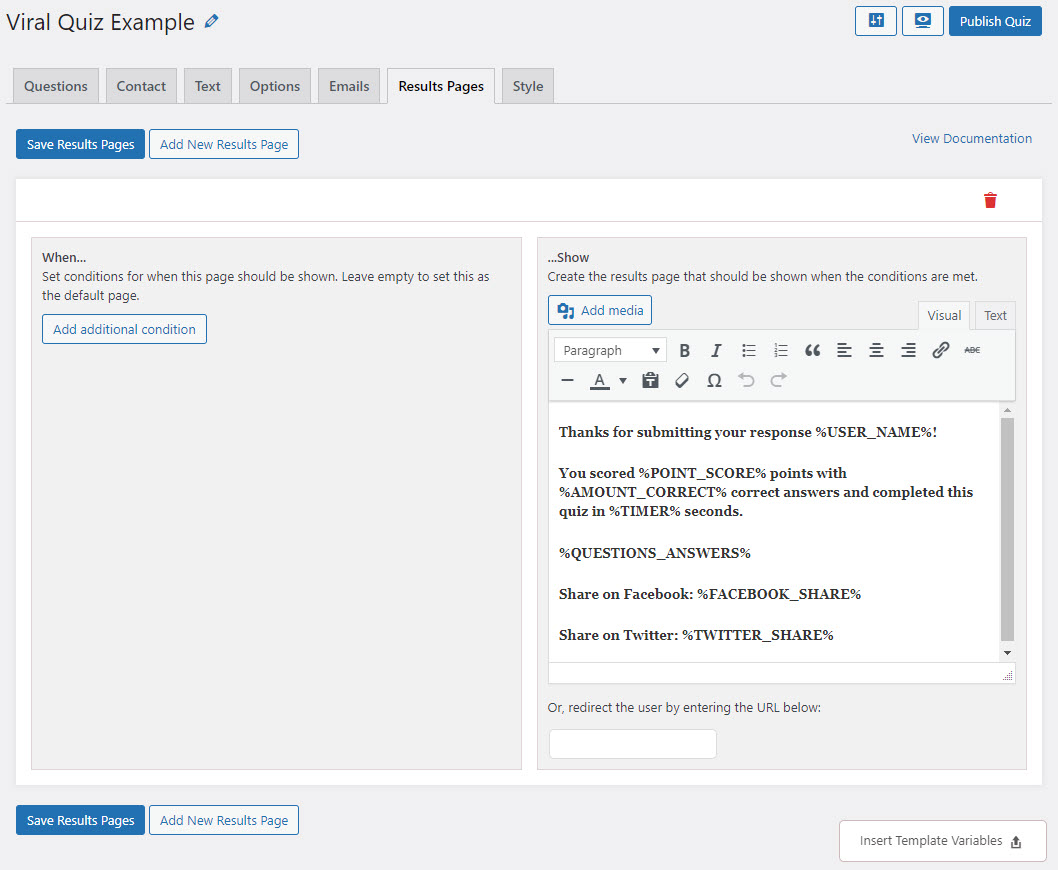 Results Tab is where all the questions and answers will be displayed after the user submits the quiz. You can display a personalized message.
The Results page consists of Template Variables that can be used to display any information related to the quiz on the results page. You can display info like the number of answers correct, Contact Information of the user like the name, email, etc., Time Taken to complete the quiz, Add Twitter and Facebook Share buttons.
Also Read: How to Add Menu in WordPress? 3 Useful Methods You Must Know!
You can display different information to every user using conditions. You can conditions on results pages which will be focussed on "Correct score percentage" and "Total points earned" for that quiz.
So, For Example: if a user gets all answers correct he will be greeted with congratulations messages and can also download his certificate.
If required you can forward the user to a specific URL.
#7 Publish your Quiz and let it go Viral
After you finish customizing the quiz, you can preview your progress by clicking the Preview button in the top right corner and validate your work done so far.
If you are happy with the preview results, you can hit the "Publish Quiz" button and make the Quiz Live.
You need to copy the quiz shortcode to add the quiz to your website's page/post or to add it as a widget. You can use the shortcode link QSM > Quizzes/Surveys > and locate the quiz you created and click on the button of the shortcode.
The "Embed Shortcode" and "Link Shortcode" appear on a window. Copy and paste the required link on the Page/Post or use it on your website as a widget.
Conclusion
This is how you create a Viral Quiz in WordPress using a Quiz and Survey Master – WordPress Quiz Plugin. After building the Viral quiz go ahead and post the quiz on your business social channels to reach the maximum of your users.
Likewise, you can build different types of Quizzes and Surveys to display on your website for free. This makes Quiz and Survey Master the "Swiss Army Knife" of WordPress Quiz Plugins.
You might also like, How to create a personality quiz in WordPress [9 Simple Steps]
Using the QSM Pro Addons, you can take the Quiz game a step further and get the most out of your quizzes. Hope this article was interesting to you. Stay connected to our blog as we regularly post interesting articles on WordPress plugins and themes.